Unheard stories of terror and Holocaust victims to sound louder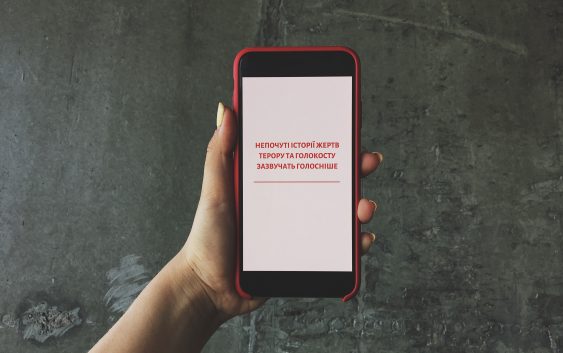 In order to establish the fullest collection of spoken testimonies of mass violence in the mid-20th century and victims of the Holocaust, and to call on all museums focused on crimes against humanity to unite to promote and advocate their joint efforts, the Babyn Yar Holocaust Memorial Center (BYHMC) and the "Territory of Terror" Memorial Museum of Totalitarian Regimes signed a Cooperation and Partnership Memorandum on 19 June.
In 2018, the BYHMC started its project called "Holocaust Personal Experiences", with the goal of concentrating in one place the fullest possible public collection of testimonies of the Holocaust in Ukraine. The "Territory of Terror" museum is implementing a parallel project, #unheard, to document testimonies by witnesses of violence in the mid-20th century and systematize those within an online archive. Because of the parallel activity, the to museums have come together to form a partnership and work together.
"Six million Jews are believed to be victims of the Holocaust. However, behind this imprecise number, there are as many names and stories that we do not know yet. In order to humanize these stories and to show through personal experiences the widest possible picture of the total destruction of Jews, and in that way, to outline its due place in the history, we are opening one by one the archives with the collected interviews with eyewitnesses", BYHMC chief operating officer and chief strategy officer Yana Barinova comments on the Cooperation Memorandum. "The signing of the Memorandum is also an important step for such museum institutions as we are, in order to join our efforts and have a major influence, instead of competing with each other. So, we are open for cooperation!"
"Our museum and the Memorial Center are young organizations that are facing the challenge of working with a complex legacy," emphasizes Olha Honchar, director of the "Territory of Terror" Memorial Museum of Totalitarian Regimes. "For both institutions, it is important to be a place where people come to learn and feel with history. Therefore, though it is not yet popular to get united in Ukraine, we must show a precedent. The more we play by the general rules, the closer the memory of tragedies and catastrophes will become for people".  
The Babyn Yar Holocaust Memorial Center is a non-profit educational organization aiming at due commemoration of the Babyn Yar tragedy victims through building an innovative memorial center in Kyiv and promoting the humanizing of mankind through the preservation and exploration of the memory of the Holocaust.
The "Territory of Terror" Memorial Museum of Totalitarian Regimes in Lviv has been established with the aim of reflecting on the complex historical legacy of World War 2 and the USSR totalitarian regime through documenting, preserving and sharing the experience of the totalitarian past, and explaining the mechanisms by which those using totalitarian ideologies functioned.